Pre- and Post-Surgical Rehabilitation
Pre- and Post-Surgical Rehabilitation
Written By Falling Waters Injury & Health Management Center on July 13, 2020
---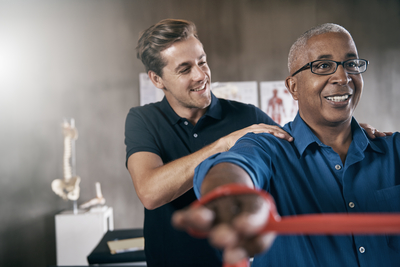 Medical procedures require both pre-and post-surgical rehabilitation to ensure that your body can return to its optimal functioning level.
Pre-Surgery Rehabilitation
Pre-surgery rehabilitation, also commonly referred to as prehabilitation, is often required for patients who are considered an unideal candidate for a particular procedure. For instance, many individuals seeking weight loss surgery are often told they must lose a certain amount of weight to help with respiratory conditions they may have and help with their recovery post-surgery.
In other cases, some individuals may need pre-surgery rehabilitation to help treat another condition in an effort to strengthen the muscles in the area that is to undergo surgery. Why? Because having that strength pre-surgery helps to better prepare them for the procedure and helps with recovery after surgery.
Post-Surgery Rehabilitation
Once your surgery is complete, you'll be required to partake in post-surgery rehabilitation.
There are right and wrong ways of returning to "life as usual" after surgery, and post-surgery rehabilitation will help guide you through the recovery process to ensure you aren't putting yourself in harm's way while you are healing.
Depending on the nature of your surgery, your post-surgery rehabilitation can include both physical therapy and physiotherapy.
While these terms may seem similar, they are two very different approaches to therapy:
Physical therapy: This typically utilizes an exercise-based approach to help a patient regain strength in the muscles of their body and help improve their overall balance.
Physiotherapy: This is a more hands-on approach that focuses more on manual therapy, including massage therapy and several different therapeutic modalities.
Again, depending on the nature of your surgical procedure, your post-surgery rehab will be customized to fit your specific needs.
Pre- and Post-Surgery Rehabilitation in Bend, OR
Whether it be pre-surgery rehabilitation to help prep you for your procedure or post-surgery rehabilitation to help you return to your day-to-day life, the team at Falling Waters Injury & Health Management Center is here to help you through it all.
If surgery is in your future, then contact us today or call our office at (541) 389-4321.

Posted In: Chiropractic Physical Therapy Pre Surgical Rehabilitation Post Surgical Rehabilitation