7 Signs of Whiplash After an Auto Accident
7 Signs of Whiplash After an Auto Accident
Written By Falling Waters Injury & Health Management Center on March 19, 2021
---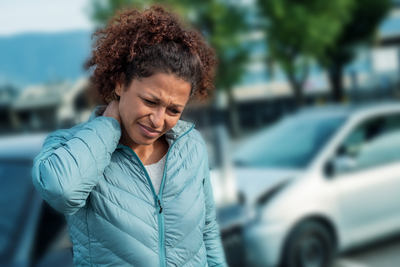 Whiplash is a common injury experienced in auto accidents and affects approximately one million Americans every year. If you've been in a collision, beware that symptoms of whiplash may not appear immediately. Sometimes the signs can take hours or even days to appear.
A chiropractor can provide effective treatment for whiplash injuries. Ninety-three percent of patients who receive chiropractic care for whiplash report an improvement in their symptoms. Knowing what to look for ensures you get the immediate care you need to avoid needless pain and speed up the healing process.
7 Whiplash Symptoms to Consult a Chiropractor About
Whiplash is very common in rear-end collisions. It occurs when a sudden impact forces the cervical spine—the upper portion of the spine—to extend and retract quickly. This can result in misalignment of the vertebrae and damage to the surrounding ligaments, muscles, and tendons.
Here are some of the more common symptoms associated with whiplash after auto accidents:
Tightness, pain, and limited mobility of the neck
Throbbing headaches that start at the base of the skull and radiate towards the forehead
Tenderness, pain, and limited range of motion in the head, neck, and shoulders
Tingling and numbness in the upper extremities
Dizziness
Tinnitus (ringing in the ears)
Blurry vision
Some people also notice changes in their mood. They may become unexpectedly irritable or have trouble focusing on work or school, for example. Fatigue is another reported side effect.
If you notice any of these signs, consult a chiropractor. They can diagnose whether whiplash is to blame for your symptoms and provide a personalized treatment plan. Spinal manipulation or adjustment can help realign subluxated vertebrae, for instance, while massage therapy will help soft tissues heal faster.
Auto Accident Whiplash Treatment in Bend, Oregon
Falling Waters Injury & Health Management Center offers fast whiplash diagnostics and treatment. Their team knows how traumatizing recovering from an auto accident can be and will guide you through the process with compassion. They focus on not only immediate healing but also long-term rehabilitation.
The fastest way to schedule an appointment is by calling us at (541) 389-4321. You can download the intake paperwork online.

Posted In: Chiropractic Auto Injury Treatment Whiplash Treatment