3 Great Ways to Improve Workspace Ergonomics
3 Great Ways to Improve Workspace Ergonomics
Written By Falling Waters Injury & Health Management Center on May 24, 2021
---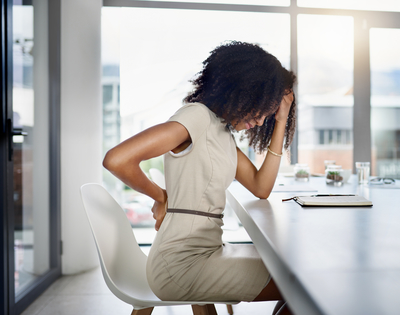 We at Falling Waters Injury and Health Management Center in Bend OR is on a mission to help every last desk job worker create the ideal ergonomic environment to help avoid back pain, neck pain, headaches, and more. A healthy workspace protects you from many forms of pain and health issues.
We've treated hundreds of patients whose health problems have been exacerbated by poor posture and an unhealthy desk setup. Here are three great ways to improve workspace ergonomics
1. Invest in an ergonomic chair
Sitting all day disengages spine-supporting abdominal and back muscles. If standing isn't an option, invest in an ergonomic chair. Wobble chairs in particular promote better spinal disc health, allow you to breathe better, increase blood flow, and more.
2. Get a better desk
The perfect desk height varies from person to person. You know it's right when your elbows are at a 90-degree angle when typing, your feet are flat on the floor while your knees are also at a 90-degree angle. Optimal desk height is shown to lower the risk of related musculoskeletal disorders, reduce stress, improve focus and productivity, and promote better health.
3. Set your computer monitor to the right level
Having your monitor sitting too high or too low can cause eye and neck strain. Optimal positioning is directly in front of you with the center of the screen at eye level, and without any glare or flicker. Both cause headache-inducing eye strain.
Support Good Ergonomics With Quality Chiropractic Care in Bend
We offer research-based, results-driven approaches to health, with a commitment to red carpet service. The information on this website will provide you with an overview of the facility and services we offer.
We welcome you to choose a path to optimal health and a fulfilling life. Whether you are coming for chiropractic care, physical therapy, personal training, aquatic therapy, massage, or nutritional supplements, our experienced professional staff will extend you a warm welcome to see that you are fully supported to succeed in your goals.
Have questions or wish to schedule an appointment? Give us a call at (541) 389-4321 or go online and fill out our contact form. We look forward to serving you for years to come.

Posted In: Chiropractic Workplace Ergonomics